Internet Projects for Business
Since 1994, Offices in Orlando, FL and Atlanta, GA

ImageServe is a Business Internet Development Company in Orlando and Atlanta specializing in Web Design, Database Applications, Intranet, Content Management, E-Commerce, iPad Consulting, Flash, Video, Podcasting, and Music Production Services. We have helped many organizations utilize the Internet for Improved Business Productivity, Branding, Increased Sales, and Cost Reduction.

ImageServe iPad Consulting...

The Internet is a powerful business tool and our approach starts with a clear understanding of what a company's mission is. Then we help create an Internet approach to support that mission. A professional Internet Presence is a combination of form (expert graphic design) and function (appropriate technology). ImageServe has the expertise to achieve both.



ImageServe Launches Redesigned
Florida Frame House and Gallery
Web Site...

American Bar Association Construction
Forum: iPad for Lawyers Article...

ImageServe Client Featured in Businessweek...

American Bar Association Construction
Forum Selects ImageServe...

Time Magazine Online Selects an ImageServe Site as One of the 50 Coolest Web Sites (Cancer Nutrition Info.com)...

ImageServe Site Profiled in the New York Times...
Spotlight Web Site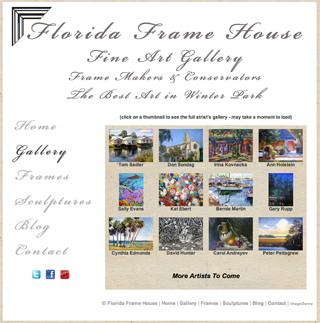 Visit Florida Frame House.net...